As of February 2021, over 62 million abortions have occurred in the USA since Roe v. Wade in 1973. Let that soak in: Over 62 million babies have been killed while in the womb. Life is precious and children are a gift. Instead, these children were killed and never given a chance. This deeply grieves our hearts as it should yours.
A barrage of brainwashed individuals with agendas currently attack unborn babies. Atrociously, they do this in the guise of compassion and empowerment of women (both of which are scientifically and ethically unsound arguments). The Biden administration is doing everything possible to stop pro-life efforts and that is tragic.
But we have hope. Currently, there is an effort to overturn Roe v. Wade. In addition, many state legislatures and governors are supporting and passing pro-life legislation. Many people throughout the United States continue to fight for life.
One amazing example of a pro-life warrior was Sue Thayer (1959-2021). Sue worked as a manager for a Planned Parenthood facility in Storm Lake, Iowa for over 17 years. At the time, Sue believed she was helping women. But her eyes were opened to the horrific truths of abortion after she was asked to participate in webcam abortions. Sue experienced a transformation and became a passionate defender of life. She founded and directed Cornerstone for Life Pregnancy Resource Center in Storm Lake, Iowa. She also served as Director of Outreach for 40 Days for Life. Most of all, Sue loved Jesus and shared His deep love, mercy, and forgiveness with those who knew her. She was a remarkable lady filled with the Holy Spirit and love for others. She was a very dear personal friend as well.
Below please read a powerful article by Sue Thayer detailing the truths about the abortion industry. You will also find numerous pro-life action tips. We all should get involved in the fight for life. Pray, donate, vote, do something for the cause for life. May we all be like Sue Thayer and speak up to defend the lives of those who cannot cry out.
Stay strong in Christ,
Carrie Stoelting and Stacie Stoelting Hudzinski
Sisters and Co-founders of Unite the USA
P.S. Click here to learn more about supporting the pregnancy resource center Cornerstone for Life (in Storm Lake, Iowa), which was founded by Sue:
https://cornerstoneforlifeprc.com/.
"I praise you, for I am fearfully and wonderfully made. Wonderful are your works; my soul knows it very well." (Psalm 139:14)
Why I Left the Abortion Industry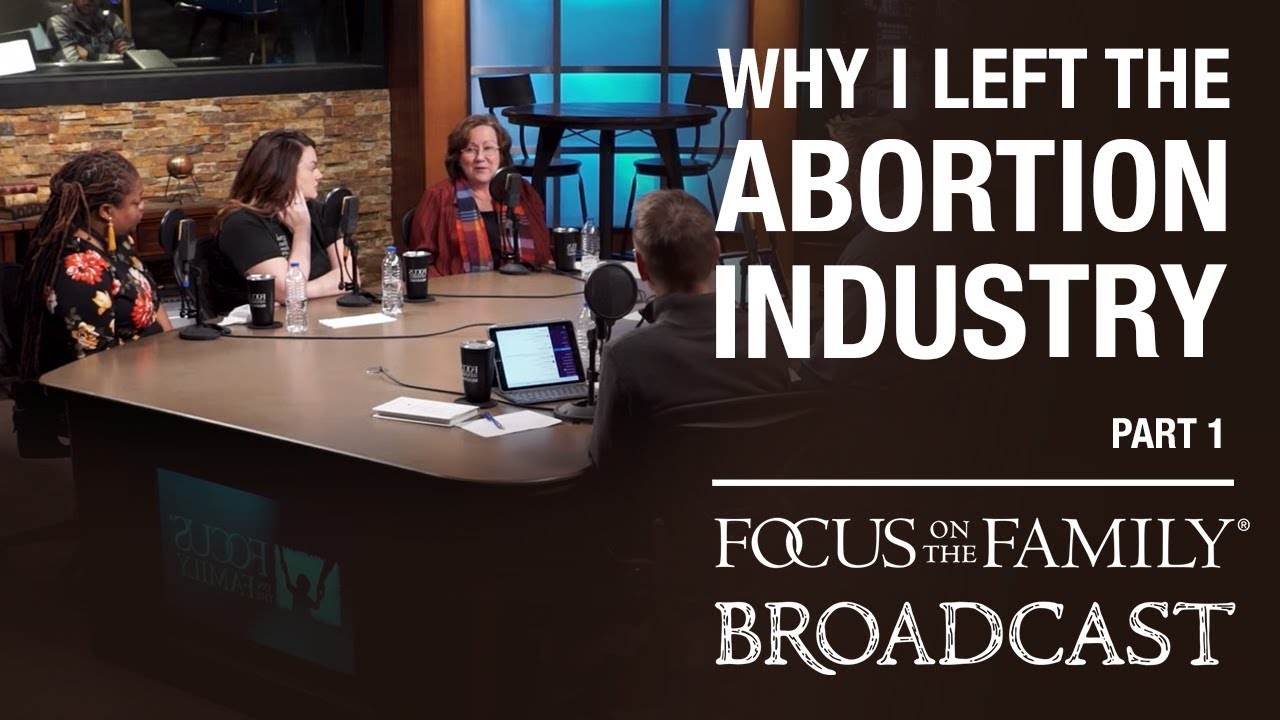 Focus on the Family features Abby Johnson, Sue Thayer, and Annette Lancaster who were transformed through Christ and became pro-life warriors.
In Loving Memory of Sue Thayer
March 23, 1959 - December 21, 2021
Sue Thayer was a bright light for Jesus. Her testimony was powerful and she lived her life with her eyes on Christ. Sue was truly a prolife warrior. We admired her commitment to ministry and to the prolife cause. While many mourn her passing, she would want us to keep our eyes on Jesus as we know she is with Him. We will be together again one day and at that time it will be forever and perfect in every way. Until then, may we "keep on keeping on" in the fight for life and in proclaiming the Gospel of Jesus Christ.
In addition to all that we've shared here, Sue was a very dear friend to Stacie. Stacie posted this on the eve of Sue Thayer's memorial service:
On the eve of my close friend's celebration of life, I can't help but feel grief. (Please pray for her beloved kids!) I think of the amazing memories of all that God did in and through Sue. I also feel 100% certain she's making amazing memories now in the presence of our Lord! I can just almost hear her enthusiastic voice talking about Him. She and I had such great visits and times of prayer as we related to speaking nationally to share God's love and work. We also had similar interests...
Sue would want all to experience the fullness of His comfort, love, forgiveness, redemption, and victory at this time. She would want all to take Acts 16:31 to heart: "...Believe in the Lord Jesus Christ [give yourself up to Him, take yourself out of your own keeping and entrust yourself into His keeping] and you will be saved, [and this applies both to] you and your household as well." If you haven't yet, please believe on the Lord Jesus Christ. She would want you to know Him as she did and does! We who personally know and love the Lord look forward to being together with her again someday even as we miss her very much. Yes, very much... Until then, dear friend. Until then! (Also, consider donating to the pregnancy centers [like Cornerstone for Life in Storm Lake, Iowa] and pro-life cause for which she spoke and fought with such love in her heart for her life-giving Lord and Savior.)
Click here
to learn more about supporting the pregnancy resource center Cornerstone for Life (in Storm Lake, Iowa), which was founded by Sue:
https://cornerstoneforlifeprc.com/
.
Unite the USA's
Featured Veteran of the Month: Robert Howard
Action Points to Save Babies from Abortion
1. If you are pregnant and need help, please call
CareNet
at 1-800-395-HELP. You can be connected with pregnancy center in your area where you can receive support. Remember... God loves you and your baby too!
2. Share how mother and baby can get in touch with pro-life Women's Centers. They can learn about their options and get the support they need to make a decision in favor of life! Call: 1-800-848-LOVE.
3. There is help and hope for those suffering after an abortion. The resources here will help those of you suffering from post-abortion stress syndrome (PASS) to find hope and healing. Call: 1-800-5-WE-CARE.
4. Keith and Melody Green's ministry (Last Days Ministries) has an excellent pro-life section on the web site. Please
click here
to learn about abortion and what you can do.
5. Talk to your kids and grandkids about the sanctity of life. Public schools, colleges, and universities are constantly teaching that abortion is OK. The kids in your life need your support to keep them focused on the value of life and the reasons why abortion is wrong.
6. Support ministries that aid expectant mothers. Examples include
Bethany Christian Services
,
Birthright International
,
CareNet
,
Christian Life Resources
, and
Life Dynamics
. Donate time, money to Christian ministries, and help dissuade potential mothers from having abortions.
7. Contact your Congressmen and state legislators and urge them support anti-abortion legislation.
Click here
to find your state legislators.
Click here
to find contact information for your Congressmen.
8. Write letters to the editor. Make your voice heard about your pro-life position. Explain why abortion is wrong.
9. Vote for pro-life candidates. Research and support proven anti-abortion candidates. Help elect pro-life men and women to office.
10. Pray for our politicians and that Roe v. Wade will be repealed. Pray for the mothers whose hearts were broken by abortion. Pray for families whose tables are not as full as a result of abortion. Prayer is powerful!
11. Support ministries and organizations that are bravely fighting to stop abortion and to protect all life. Here are a few worthy pro-life groups worth your attention:
40 Days for Life
,
National Right to Life
,
John Paul II Medical Research Institute
,
Embryo Adoption Services
,
Susan B. Anthony List
,
Alliance Defending Freedom
,
Priests for Life
,
And Then There Were None
, and many more.
12. Remember that innocent, unborn children are depending on you to give them a voice. Cry out for the babies that never cry!
An Insider View on How Planned Parenthood Harms Women
By Sue Thayer
(January 2017)
While Planned Parenthood bills itself as a nonprofit, the organization's real motivation is making money. As a center manager for Planned Parenthood of Greater Iowa for nearly 18 years, I witnessed firsthand plenty of reasons to question Planned Parenthood's use of resources.
Most people know that Planned Parenthood provides abortions, but are unaware that they abort more than 320,000 babies each year. This staggering statistic makes Planned Parenthood the largest abortion provider in the country. While taking the lives of nearly 1,000 unborn children every day, Planned Parenthood quietly receives more than half a billion dollars every year from the federal government. Planned Parenthood boasts assets of $1.3 billion — not exactly the figure that comes to mind when thinking "nonprofit." What, you may wonder, does the leader of the top abortion provider in the country make? Cecile Richards makes $600,000 per year — 11 times more than the average American household whose tax dollars fund her paycheck.
As taxpayers, the return for their significant investment in Planned Parenthood is incredibly low. Aside from the thousands of abortions, let's take a look at what they offer their patients. Most clients are not seen by a medical doctor, a nurse clinician or even a nurse. Birth control supplies, pregnancy tests, even webcam abortions are given without the client ever seeing a physician. In rural centers — like the two I managed — there is rarely, if ever, a doctor even in the building. In my experience and in the experience of the more than 300 members of And Then There Were None with whom I've spoken, client care was often provided by a person working as a Clinic Assistant or Center Manager, who had no proper medical training.
In Iowa and across the United States, nonmedical staff members are "trained" to perform webcam abortions by observing an abortion being performed at another center. In the eyes of Planned Parenthood, witnessing a few transvaginal ultrasounds qualifies their employees to perform a dangerous and invasive procedure.
Planned Parenthood advertises that services and supplies are free, but when Medicaid-eligible women are served, it is expected they donate fifty percent of the total cost for the visit. As a center manager, I was required to tell patients the full cost of the visit and say, "An expected donation is 50 percent. How would you like to pay that?" Planned Parenthood receives $542,000,000 in federal funding, yet asks women who live at or below the poverty line, who depend on federally-funded healthcare to make a donation — proof that Planned Parenthood is much more concerned about its bottom line than women in need.
Abortions are the most profitable service offered at Planned Parenthood, and as such, each center is required to perform a minimum number of abortions each month. Planned Parenthood performs 30 percent of all abortions in the United States, but less than 1 percent and 1.8 percent of the nation's pap tests and breasts exams respectively. Planned Parenthood is an abortion corporation and its business model is built on turning a profit — a billion-dollar profit, to be exact.
Supporters of Planned Parenthood argue that the abortion giant is necessary and that without it thousands of women will have no health care. This simply is not true. In fact, Planned Parenthood provides very basic reproductive care, often with no doctor and most rural centers have very limited hours with many open only a couple afternoons a week. Women could receive much better care elsewhere.
Federally Qualified Health Clinics offer quality health care delivered by medical professionals. FQHCs have regular office hours and an abundance of appointments available to better serve their clients. Most FQHCs also offer translator services and unlike Planned Parenthood, FQHCs accept Title 19 or a Medicaid waiver without soliciting donations from the women they serve. FQHCs operate on a sliding fee scale and no one is turned away because of inability to pay, plus they offer comprehensive care, meaning a woman can use the same doctor for all care. Community health clinics outnumber Planned Parenthood 20:1. There are 13,540 FQHCs and rural health clinics across the United States compared to only 665 Planned Parenthood locations.
The "nonprofit" receives more than $500 million in taxpayer resources despite the 8 out of 10 Americans who support substantial restrictions on abortion. Planned Parenthood is not for women. Planned Parenthood is for profit. Taxpayer resources should be allocated to Federally Qualified Health Clinics that support whole women's health.
>>> Click here to learn more about supporting the pregnancy resource center Cornerstone for Life (in Storm Lake, Iowa), which was founded by Sue: https://cornerstoneforlifeprc.com/.